Curated Tour ( Currently Not Running)– Five hours. Three venues. Infinite experience. – Picking up from Downtown
Enjoy three of The Monticello Wine Trails finest venues on this truly one of a kind experience.  On this tour, we'll showcase three of the area's finest venues and their approach to the region- Pippin Hill Farm, Afton Mountain Vineyards and Veritas Vineyards and Winery, to offer you an exclusive opportunity to dine, taste and tour like never before.
Your Itinerary
1

Pippin Hill Farm & Vineyards
2

Afton Mountain
3

Veritas Vineyard & Winery
$

144.50 – 

per person – Includes Tasting Fees, Glass of wine with Lunch, and Vineyard Tour.
1

Our first stop will be Pippin Hill Farm & Vineyards, synonymous with luxury, style and elegance. Take in the spectacular scenery from the Tasting Room bar while enjoying a flight of their signature wines. Once finished you will be treated to one of the most coveted Pippin Hill Farm & Vineyard experiences, an exquisite sampling of their peerless farm-to-table program. You will choose one course from the seasonal menu of Chef Ian Rynecki, while a glass of wine will be paired for your selection. Savor the flavors of Virginia…showcased like only Pippin Hill can.
2
Sated and settling, we again board our luxury vehicle, traveling in comfort and elegance through breathtaking winding roads. We arrive at the sunrise-side of Afton Mountain, home to Afton Mountain Vineyards. The uniquely nestled location of this vineyard allows conditions different from many other wineries in our region, allowing a terroir-driven, medal-winning showcase of wines like no other. Hosted in the "Sun Room," which overlooks the lake with stunning vineyard views,  your private tasting will begin.  Experience fresh, young and crisp whites to bold, dark and rich reds. Your private tasting is supplemented by wines not available to the public, opened just for you to experience and enjoy. Drink in both the wine and the 360* panoramic views of the beautiful Blue Ridge Mountains. Feel the charm of the small, upscale boutique tasting experience.
3
Prepare for your final stop where rugged meets opulence at Veritas Vineyards and Winery. Journey from the vineyard to the bottle with a guided tour of the grounds, crush pad, wine cellar and barrel room while learning the basics of winemaking. Complete your journey in the Tasting Room where you will experience their exquisite releases ranging from crisp bright whites to full-bodied luxurious reds.
Available Fridays and Sundays through December.
Winter Tours: Available Saturdays only – January 11, 2020 through February 29, 2020 (Special additional tour on February 16, 2020)
Available Fridays only during the month of March 2020
Departs at 11:00 AM from behind Old Metropolitan Hall on the Downtown Mall.
Availability may vary. We recommend booking as far in advance as possible. If the tour does not have reservations prior to one week before the scheduled tour date, the tour may be cancelled.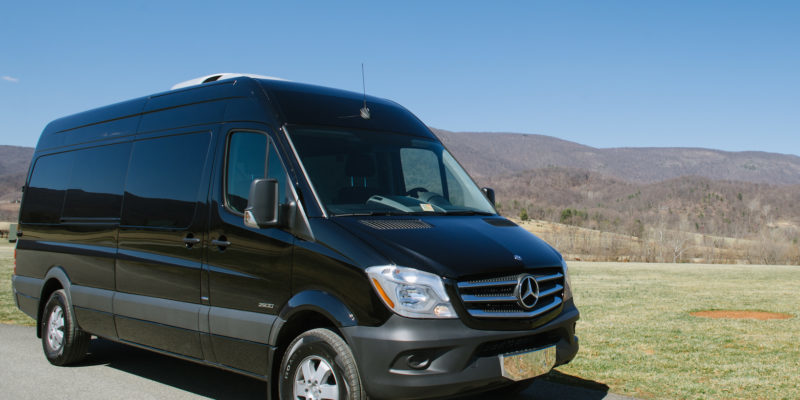 Sprinter Van
14 Passenger Mercedes Sprinter Van